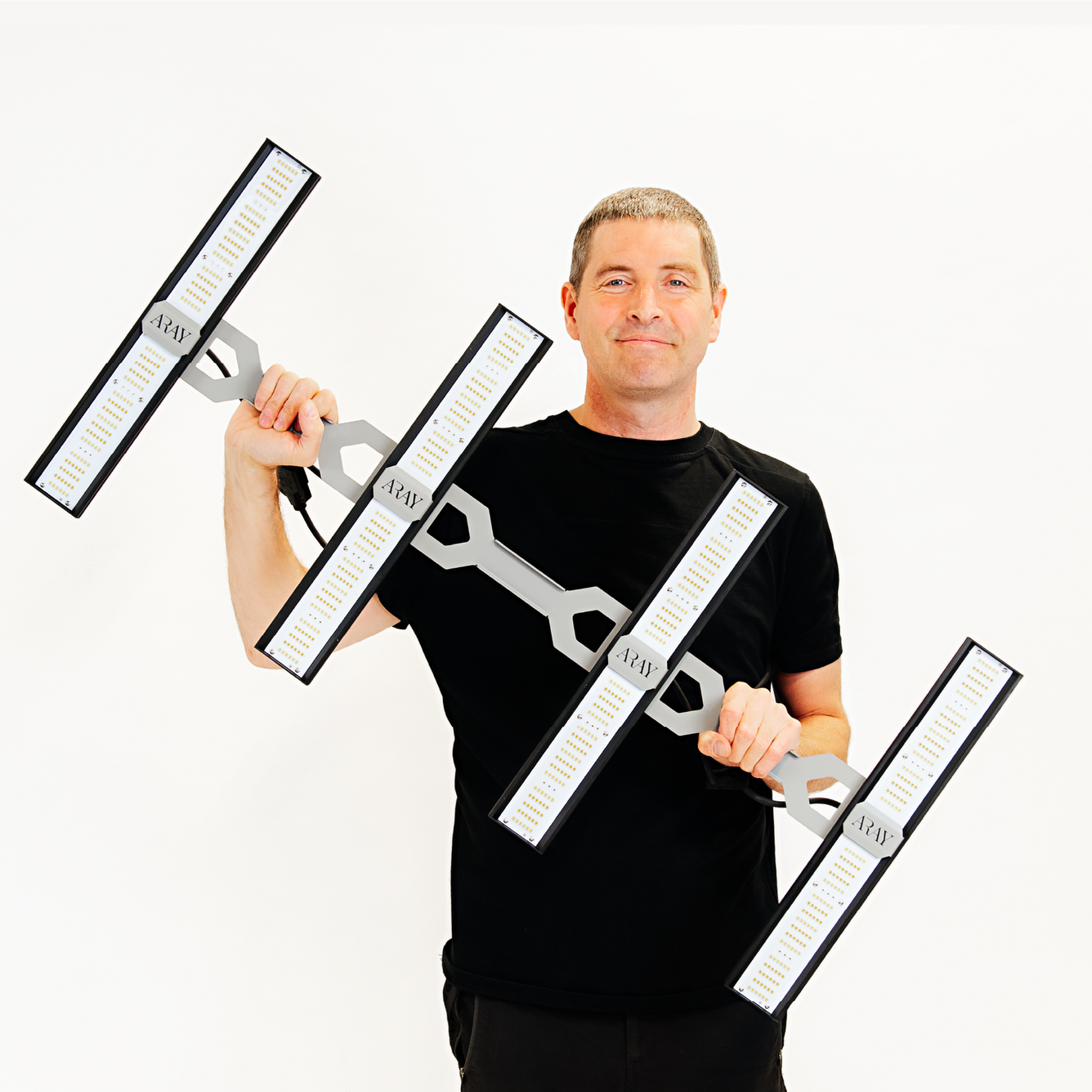 MIGRO ARAY 4 | 250W
The MIGRO ARAY 4 is the most efficient LED grow light on the market for 4ft x 2ft or 1.2m x 0.6m grow tents delivering incredibly uniform PAR distribution. A 250W LED grow light with 4 LED bars, a remote mountable LED driver with dimmer control and a 3.5m (12ft) long cable. 

Maximise your yield with a high efficiency, full spectrum & commercial grade LED Grow Light.
Which grow light suits your grow tent size?
Free Shipping from our US warehouse to US customers
Free Shipping from our EU warehouse to EU and UK
(UK VAT payable on import to the UK at standard 20% VAT rate)

Local plug type provided: US, UK, EU, AU or CH available
More info (Taxes, Shipping & FAQs)
Consumed Power Watts 250
Efficiency PPF/Watt 2.7 µmols/joule
Flowering Coverage Photoperiod Up to 120cm x 60cm (4ft x 2ft)
Average PPFD (usable PPF) 813 µmols/m2/sec
Flowering Coverage Autoflowers Up to 150cm x 75cm (5ft x 2.5ft)
Average PPFD (usable PPF) 532 µmols/m2/sec
Vegging Coverage Up to 180cm x 90cm (6ft x 3ft)
Driver Dimming 20 to 100% PWM
LEDs Samsung LM281B white LEDS + Osram 660nm Reds
LED Driver High Efficiency LIFUD
Lifetime 50,000 hours (8.5 years @ 16hour/day)
Warranty 3 years Certification CE, RoHS2, UKCA EMC, EN 55015
Remote LED power supply
Keep the LED power supply (LED driver) out of the tent for easy access to dimming controls, minimise the hanging weight of the light. Locating the LED driver out of the hot grow area also increases the driver lifespan.

Extra long cables
The plug to led driver cable is 1m or 3.5ft long and the cable from the LED driver to the light is 3.5m or 10ft long. The cable is high quality silicone insulated so it bends without kinking and is resistant to chemical and heat damage.

IP66 rating
The LED driver, cables, connectors and LED light are all water sealed and have an ingress protection trading of IP 66 meaning they can be sprayed with water without causing damage or electrical faults.

Dimming is standard
All our LED drivers have on board dimming control from 10% to 100%power and precise control of your grow. The dimming is PWM (pulse wave modulation) so the drivers run efficiently, even when dimmed to low output.

LEDs are protected
The LEDs are physically protected by the heatsink casing and protected from water and dust with a hardened acrylic coating.

High quality & durable materials
The LED heatsinks are 6000 series aluminium alloy with a 12 micron anodised coating. The fittings are 304 stainless steel brushes and acrylic coated to prevent staining and allow easy cleaning.
Facts not feelings
Somewhere along the way choosing a grow light got complicated.. We've spent the last 2 years listening to our fans (and critics) to understand their concerns and needs – simultaneously we've tested over 150 lights on the market today.

The MIGRO ARAY is designed to take the guess work out of picking the right grow light for you – better lighting performance with future proof extendability from the team here at MIGRO that you can trust.
Inspired by Nature
The ARAY spectrum is designed for full cycle growth to generate tight, dense growth in the early vegetative stage and promotes vigorous growth with high concentration of flavonoids & terpenes in the flowering stage.
Modular - grows with you
Our grow light modules can be joined end to end or hung side by side to cover any sized grow space. Alternatively you can buy our grow light packages designed to maximise yield from the most popular grow tent sizes.
High efficiency for maximum yield
The ARAY is highly efficient, allowing more lightand yield generated for less power consumed - reducing electricity consumption and reducing heat levels in your grow room.